The NFL draft begins this Thursday night (live on TV and everything) and concludes on Saturday. The New Orleans Saints currently hold 9 picks in the draft, including 5 within the top 80. This is the most picks they've had since 2002. After a disappointing 7-9 season that revealed the pitfalls of the current Saints, the team has aggressively and wisely shifted course. They traded away star tight end Jimmy Graham, guard Ben Grubbs, wide receiver Kenny Stills, and the 112th pick and in return they received center Max Unger, linebacker Dannell Ellerbe, the 31st pick, the 78th pick, and the 154th pick.
With these picks the Saints, unlike in past years, now have the ability to be flexible in the draft. They can trade up if there is a player that they really want—although their recent history of draft trades suggests that that may not be such a good idea. Since it's unlikely that they'll carry nine draft picks into training camp, they could also flip one of them for a 2016 draft selection. Such a move will allow the Saints to parlay this year's flexibility into future seasons. This type of strategy has been a staple of teams like the Patriots, Packers, and 49ers and it helps account for their consistent success. More draft picks means more chances to hit on good players. With all this in mind, let's turn now to the Saints' most pressing draft needs (in no particular order).
1. Nose tackle: The Saints featured the worst run defense in the NFL last year according to DVOA. Opposing running backs averaged 4.78 yards per attempt against Rob Ryan's defense. A 300 plus pound nose tackle could cover multiple gaps and demand the attention of interior offensive linemen. That would free up other players for Ryan's creative blitzing schemes. It would also allow pass rushing defensive end Cam Jordan more opportunities to go after opposing quarterbacks.
2. Cornerback: As the injuries mounted in the Saints secondary last season, they relied on an array of undrafted rookies and street free agents to fill in the gaps. This offseason the Saints signed cornerback/holding penalty machine Brandon Browner to play opposite starter Keenan Lewis. Their other corners include Jets castoff Kyle Wilson and 2014 second rounder Stanley Jean-Baptise, who couldn't sniff the field last year despite the team's injury woes. A high round selection on another corner would be a pick well spent.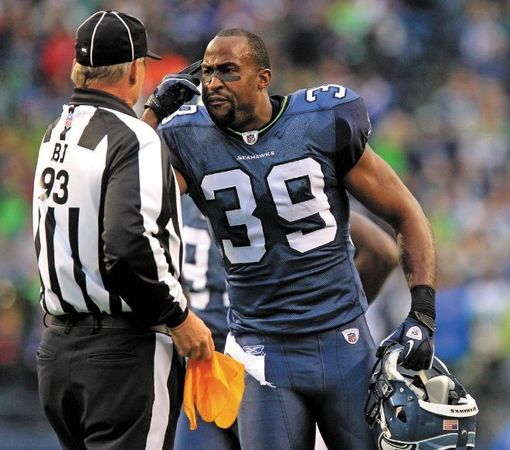 Get used to a lot of those yellow things with Browner out there.
3. Linebacker: The Saints linebacking corps and secondary similarly struggled against opposing rushers. The Saints ranked 29
th
in
second level rushing yards
and 31
st
in open field yards, metrics created by Football Outsiders designed to measure yards gained by opposing running backs 5-10 and 10+ yards beyond the line of scrimmage. With better linebackers the defense could limit the damage caused by opposing running backs.
4. Interior offensive line: The Saints need an infusion of youth on the offensive line. Right tackle Zach Strief and right guard Jahri Evans are 31, newly arrived center Max Unger is 29 and has issues staying healthy. The left guard spot is currently empty and left tackle Terron Armstead is young, 23, but inexperienced. Investing a high round pick on an offensive line would bring some much needed youth and cushion against injury or decline from the other starters.
5. Wide receiver: The Saints spent a 1st rounder on wide receiver last year, but the trade of Kenny Stills means they could use an outside wide receiver. With Mark Ingram and C.J. Spiller as the starting running backs, the Saints seem to have shifted to a more run-heavy approach. A deep threat would diversify the Saints offense. It would prevent opposing defenses from stacking the line of scrimmage against the run and offer the potential for game changing plays.
By the end of the day on Saturday, the Saints will have completed their 2015 draft. Do they invest heavily in the defense? Trade up? Trade down and acquire assets for the future? Regardless of what they do, their 2015 season will be shaped by the moves they make over the coming days.