While it remains insufferably hot in Louisiana, the calendar is about to flip from August to September and that means one thing: it's football season. Football season in Louisiana means one thing: the Saints. With all that in mind, let's turn to our yearly Saints season preview. This week we'll start by looking at the offense and next week we'll tackle the defense. We'll go position by position, taking a "What's new? What's old?" approach. With all this in mind, let's get started.
What's New? This offseason, the Saints brought in two new position coaches for the offense. Dan Campbell, formerly the interim head coach of the Miami Dolphins last year, was hired as the tight ends coach/assistant head coach. Campbell, during his brief run in Miami, garnered headlines when he announced that he wanted the Dolphins to be a tougher team—as if this was some ingenious new insight into how to play football. The Saints also hired Joe Lombardi as their new quarterbacks coach. If that name seems vaguely familiar, it's because Lombardi coached the Saints quarterbacks from 2009-2013. He left to coordinate the Detroit Lions offense in 2014 and midway through the 2015 season before getting fired and replaced by a grown man named Jim Bob Cooter.
What's Old? The men at the top of the offensive coaching staff, head coach Sean Payton and offensive coordinator Pete Carmichael remain. Since 2009, when Carmichael took over as offensive coordinator, the Saints have finished an average of 6th in Football Outsiders offensive DVOA, only finishing outside of the top 10 once—in 2010 when they finished 11th. With Payton, Carmichael, and quarterback Drew Brees there's every reason to think that the Saints will once again be a top 10 offense.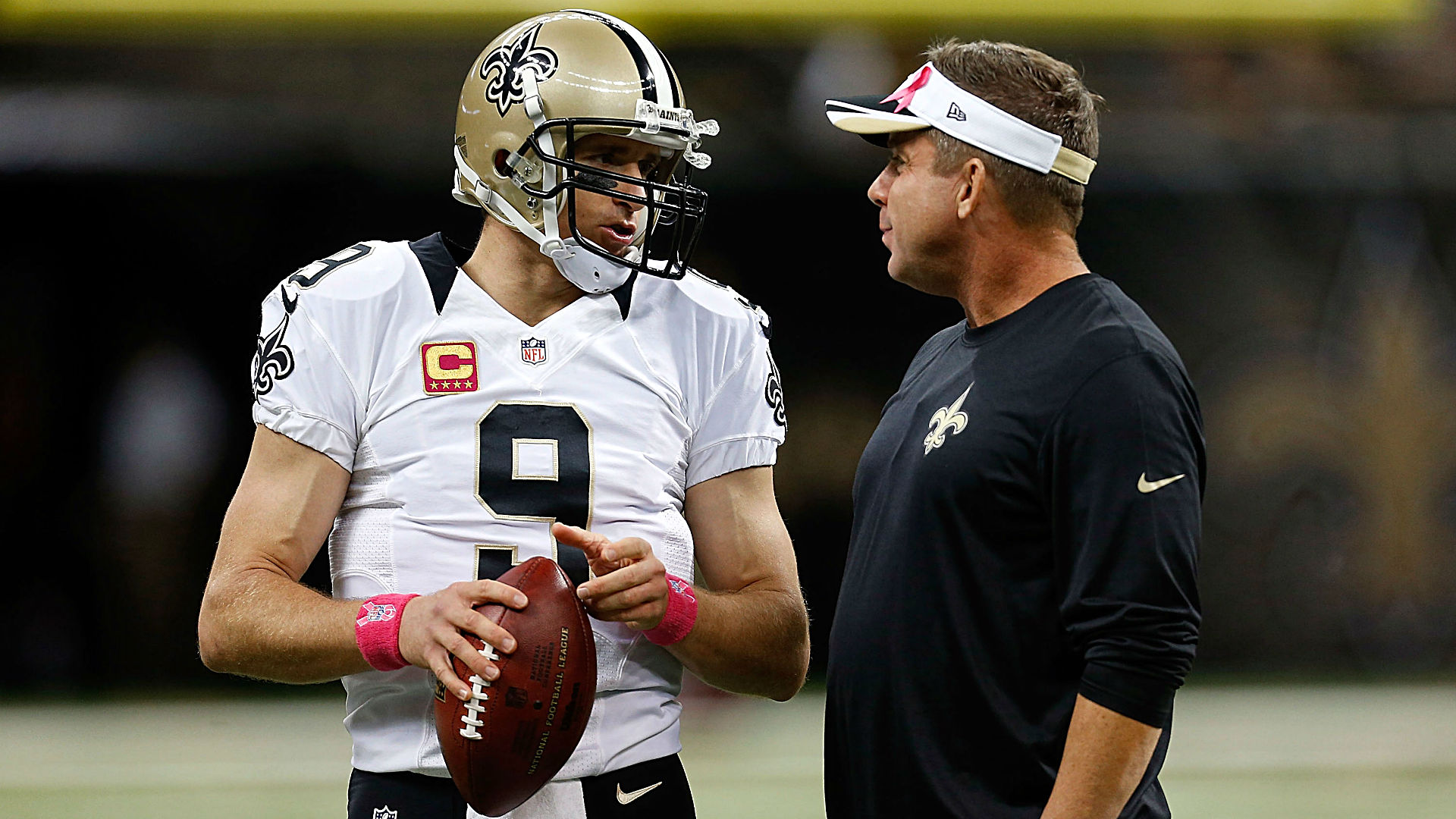 Brees and Payton = offensive success
QBs: Drew Brees, Luke McCown, Garret Grayson
What's New? Nothing. The Saints will return the same three quarterbacks they had on their roster last year. Drew Brees is the starter. Luke McCown is the veteran backup and 2014 3rd round pick Garret Grayson is the developmental player who may push McCown for the backup job.


What's Old? While Brees is entering his age 37 season, there's little reason to suspect that he's slowing down. In 2015, Brees completed 68.3% of his passes for 4,870 yards and 32 touchdowns. According to Football Outsiders, Brees was 7th among quarterbacks with a 15.8% DVOA (meaning he was 15.8% better than a league average quarterback). He was third in QBR with a 75.5 (on a scale of 0-100 with 50 being average). He's going to decline someday; it's just hard to say exactly when.
Mark Ingram, Tim Hightower, C.J. Spiller, Daniel Lasco, John Kuhn
What's New? After losing fullback Austin Johnson to injury, the Saints signed former Packers fullback John Kuhn. Kuhn mostly plays in short yardage and goal-line situations. He can also contribute as a blocker out of the backfield. Lasco is a 7th round pick from this year's draft who projects as a bigger running back in the mold of Pierre Thomas.


What's Old? Last offseason, the Saints spent heavily on their running game, ignoring their history of digging up productive running backs (Pierre Thomas and Darren Sproles come to mind) on the cheap. While Ingram played effectively last season—14th in DYAR (defense adjusted yards above replacement) and 12th in DVOA—Spiller, signed to a four year, $16 million contract, was injured and ineffective. He ran the ball 36 times for 112 yards for a 3.1 yard per carry average. The speedy Spiller has big play ability, but has rarely been healthy or effective enough to showcase it. This is a make or break year for him.
Brandin Cooks made a lot of great catches last year. Like this one.
WIDE RECEIVERS/TIGHT ENDS
WRs: Brandin Cooks, Willie Snead, Michael Thomas, Tommylee Lewis, Brandon Coleman
TEs: Coby Fleener, Josh Hill, Michael Hoomanawanui
What's New? The Saints inexplicably gave Fleener a 5 year, $36 million contract. Fleener, who played for 4 seasons with the Colts, has rarely been particularly healthy or effective. That's a lot of money for a team right up against the salary cap (again), especially after last season when they garnered great production from tight end Benjamin Watson. Watson had 74 receptions for 825 yards and 6 touchdowns while counting next to nothing against the salary cap. As with the running backs, the Saints have ignored their own history of finding productive players on the cheap and instead paid top dollar for a tight end who might not be very good.
What's Old? Last season, Brandin Cooks emerged as a number one wide receiver and the Saints best big play and deep threat. Cooks caught 84 passes for 1,138 yards with 9 touchdowns. With Cooks, Snead, Coleman, Watson, Hill, and Hoomanawanui, New Orleans finished 7th in the league in passing offense according to DVOA. With the addition of Michael Thomas to replace Marques Colston, there's little reason to think that the Saints won't have an effective passing attack.
Terron Armstead, Max Unger, Zach Strief, Andrus Peat, Tim Lelito, Senio Kelemete, Jack Allen, Tony Hills
What's New? Not much other than undrafted center Jack Allen. Allen, however, won't supplant Max Unger as the starter at center.
What's Old? Pretty much everything else and that's kind of the problem. The Saints had a decent offensive line last season, finishing 7th in adjusted sack rate. Although some of the credit for that pass protection goes to Brees and his ability to quickly dispense the ball to his wide receivers. The rushing offense finished 13th in adjusted line yards (an adjusted measure of rushing yardage). Armstead and Unger are two of the best players in the league at their respective positions, left tackle and center. Strief will once again be a serviceable right tackle. The Saints will try out 2014 first rounder Peat at left guard to replace Jahri Evans who was released this offseason as a cost cutting move. Neither Lelito or Kelemete has distinguished themselves at right tackle leaving the Saints with two very effective linemen, one okay guard, and two giant question marks.
Next week we'll tackle the defense and offer up a prediction for the season.